History & Nature
If you are looking for an unforgettable Florida vacation filled with history and nature, the gorgeous Vacation Rental Home at 1903 Hontoon offers the perfect area for enjoying historical sites, as well as an abundance of wildlife. Guests can also take part in local area attractions and activities in nearby Daytona Beach and Orlando while they enjoy their vacation.
Florida History
1903 Hontoon is ideally surrounded by the most historic and important waterway in all of Florida, the
St. John's River.
Stretching over 310 miles, this important river is the longest in the state and is designated as an American Heritage River for its natural resources, historic and cultural preservation, and abundance of wildlife.
Just minutes away from our vacation home is the Hontoon Island State Park which is one of the most significantly historic sites on the entire river. Formerly occupied by the Timucua Indians more than 5,000 years ago, this area remains protected as their artifacts - including pottery and arrowheads - are still being discovered today.
Founded in 1876, the city of DeLand has a rich collection of historic and cultural sites including the beautiful campus of Stetson University, founded in 1883; and the old Athens Theatre, built during the early 1920s and recently renovated to its former glory.
DeLand was voted Best Small Town in Florida five years in a row by Florida Trend Magazine, as well as America's Best Main Street in 2017. The beautiful small town boasts many specialty shops, antique shops, and delicious restaurants.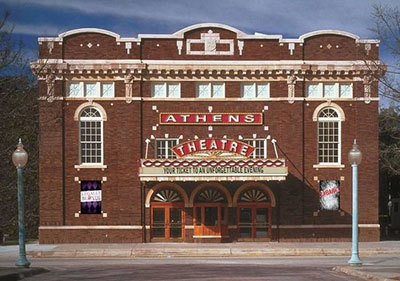 DeLand Nature
From the moment you arrive in DeLand to enjoy your vacation, you will discover old Florida in its natural splendor as you bear witness to the rich abundance of nature and wildlife species that call this area home.
Numerous species of birds, including bald eagles, ospreys, egrets, ibis, wood storks, sand hill cranes, anhingas, and herons can be seen around the river. Our property lies on the designated Florida Birding Trail.
Lake Beresford and the St. John's River are world-renowned destinations for fishing, particularly for largemouth bass and speckled perch. Perhaps our area's most charming residents are the Florida manatees who visit our area each winter (mid-November through March).
Only three miles by boat from 1903 Hontoon is Blue Spring State Park, the largest natural, ground-fed spring on the St. John's River, and a designated refuge for the Florida Manatee.
During the winter months you can see more than 100 manatees from the docks of Blue Spring State Park as they visit the springs to enjoy the fresh, warm water and care for their young. Other wildlife that often frequent our area are Florida alligators, river otters, and deer.
Each morning and evening you can revel in the glory of the sunrises and sunsets as they dance colors across the sky.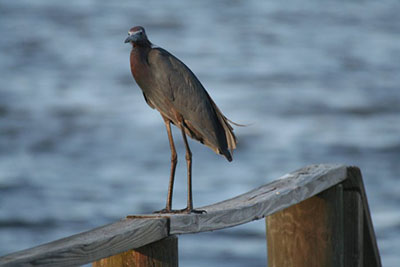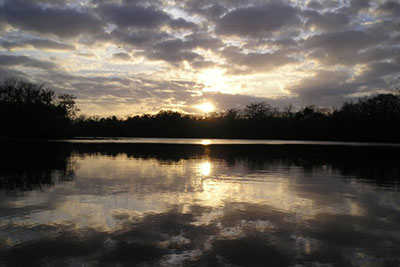 Make your reservation for a wonderful vacation today and enjoy all of the beauty Central Florida has to offer.
Please Note:

Manatees: These gentle creatures are slowly recovering from a dwindling population and are highly protected throughout the waterways of Florida. Please respect our Manatee Speed Zones along the St. John's River.
Alligators: Alligators are an important and natural element of Florida's ecosystem. Alligator attacks are very rare and like most animals, alligators have a natural fear of people and tend to stay on their own. It is against the law to feed or harm alligators. We recommend that dogs and small children be kept away from the shoreline at dusk and dawn during the summer months as alligators are mainly nocturnal.
Fishing: Residents and non-residents are required to have fishing licenses. You can purchase a fishing license online through the Florida Fish and Wildlife Conservation Commission.